Till 'Tumsa Nahin Dekha' (1957), Prithviraj Kapoor & his second son Shammi Kapoor (originally Shamsher) was a failure. He had tried acting in mythological and social films but his lean frame and expressionless face had failed to make any impression. 'Tumsa Nahin Dekha' revealed a new persona which grabbed attention of the young, who easily identified with him. 'Dil Deke Dekho' and 'Junglee' added to this image, the image of a young, debonair rebel.

His parents request him marry the girl of his choice, and the image was in typically Hindi film mould, but an entire generation sang and danced along with him in 'Professor', 'Janwar', 'Kashmir Ki Kali', 'Teesri Manzil' and 'Brahamchari'. He married one of his leading ladies Geeta Bali. Her premature death shattered him considerably. Shammi was not the same. He went haywire, but continued doing some films. 'Andaz' saw his decline as Rajesh Khanna, in this very film, easily came across as a fresher, brighter star who contrasted Shammi's jaded look.

He grew a beard, got married once again, wore malas. This obese and older Shammi played some character roles in films like 'Vidhaata', 'Zameer' and 'Prem Rog'. He also made at least two forgettable films 'Manoranjan' and 'Bandalbaaz' and an equally mediocre video magazine 'Manoranjan' before settling for a mouse in his hand. Shammi Kapoor is an internet buff now, but occasionally acts in TV serials.
Shammi Kapoor founded Internet Users Community of India. He also setup internet organization such as Ethical Hackers Association. Kapoor also started a website dedicated to family.
He was on dialysis since 2006, he was always thankful to God for giving him so much.
He died of renal failure around 5.00 am on 14 August 2011 at Breach Candy hospital Mumbai.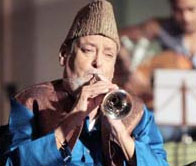 Shammi Kapoor in Rockstar

ABOUT HIM SELF :

Birth name: Shamsher Raj Kapoor
Date of Birth: 21 October 1931
Died : 14 August 2011
Height: 6' or 1.85 m
City: Bombay, Maharashtra
Country: India
Mother: Ramsarni (Rama) Devi nee Mehra
Father: Prithviraj Kapoor
Siblings: Brothers Raj Kapoor and Shashi Kapoor, sister Urmila Sial
Marital status: Married
Spouse: Neila Devi
Ex-spouse: Geeta Bali till her death
Ex-girlfriend: Mumtaz
Other facts: Initially employed in his father's Prithvi Theatres
Hobbies: One of the foremost internet users in India
Debut Film: Thokar

FILMOGRAPHY :
Rockstar (2011)
Waah! Tera Kya Kehna (2002)
Yeh Hai Jalwa (2002)
Censor (2001)
East Is East (1999)
Jaanam Samjha Karo (1999)
Dhoondte Reh Jaaoge! (1998)
Kareeb (1998)
..Aur Pyaar Ho Gaya (1997)
Share Bazaar (1997)
PremGranth (1996)
Megha (1996)
Rajkumar (1996)
Namak (1996)
Rock Dancer (1995)
Prem Yog (1994)
Pyaar Ka Rog (1994)
Vivekananda (1994)
Gardish (1993)
Aaja Meri Jaan (1993)
Dosti Ki Saugandh (1993)
Humshakal (1992)
Nishchaiy (1992)
Chamatkar (1992)
Khule-Aam (1992)
Heer Ranjha (1992)
Tehelka (1992)
Lakshmanrekha (1991)
Henna (1991)
Ajooba (1991)
Mast Kalandar (1991)
Batwara (1989)
Daata (1989)
Bade Ghar Ki Beti (1989)
Mohabbat Ka Paigham (1989)
Vozvrashcheniye Bagdadskogo vora (1988)
Himmat Aur Mehanat (1987)
Hukumat (1987)
Ijaazat (1987)
Karamdaata (1986)
Kala Dhanda Goray Log (1986)
Allah Rakha (1986)
Balidaan (1985)
Ek Se Bhale Do (1985)
Aan Aur Shaan (1984)
Badal (1984)
Sohni Mahiwal (1984)
Betaab (1983)
Ek Jaan Hain Hum (1983)
Hero (1983)
Romance (1983)
Wanted (1983)
Prem Rog (1982)
Desh Premee (1982)
Vidhaata (1982)
Yeh Vaada Raha (1982)
Armaan (1981)
Ahista Ahista (1981)
Harjaee (1981)
Biwi-O-Biwi: The Fun-Film (1981)
Professor Pyarelal (1981)
Rocky (1981)
Saajan Ki Saheli (1981)
Meera (1979)
Ahsaas (1979)
Shalimar (1978)
Mama Bhanja (1977)
Parvarish (1977)
Bandalbaaz (1976)
Zameer (1975)
Chhote Sarkar (1974)
Manoranjan (1974)
Preetam (1971)
Andaz (1971)
Jaane Anjane (1971)
Jawan Mohabbat (1971)
Pagla Kahin Ka (1970)
Prince (1969)
Sachaai (1969)
Tumse Achcha Kaun Hai (1969)
Brahmachari (1968)
An Evening in Paris (1967)
Laat Saheb (1967)
Badtameez (1966)
Preet Na Jane Reet (1966)
Teesri Manzil (1966)
Janwar (1965)
Kashmir Ki Kali (1964)
Rajkumar (1964)
Bluff Master (1963)
Jab Se Tumhe Dekha Hai (1963)
Pyaar Kiya To Darna Kya (1963)
Shaheed Bhagat Singh (1963)
China Town (1962)
Dil Tera Diwana (1962)
Professor (1962)
Wallah Kya Baat Hai (1962)
Boy Friend (1961)
Junglee (1961)
Basant (1960)
College Girl (1960)
Singapore (1960)
Char Dil Char Raahein (1959)
Dil Deke Dekho (1959)
Mohar (1959)
Raat Ke Rahi (1959)
Ujala (1959)
Mujrim (1958)
Coffee House (1957)
Maharani (1957)
Mirza Sahiban (1957)
Tumsa Nahin Dekha (1957)
Ham Sab Chor Hain (1956)
Mem Sahib (1956)
Rangin Raaten (1956)
Sipahsalar (1956)
Daku (1955)
Miss Coca Cola (1955)
Naqab (1955)
Tangewali (1955)
Chor Bazar (1954)
Ehsan (1954)
Mehbooba (1954)
Shama Parwana (1954)
Gul Sanobar (1953)
Jeevan Jyoti (1953)
Khoj (1953)
Ladki (1953)
Laila Majnu (1953)
Rail Ka Dibba (1953)
Thokar (1953)

AWARDS AND RECOGNITION :

1968 - Filmfare Best Actor Award, Brahmachari
1982 - Filmfare Best Supporting Actor Award, Vidhata
1995 - Filmfare Lifetime Achievement Award
1999 - Zee Cine Award for Lifetime Achievement
2001 - Star Screen Lifetime Achievement Award
Shammi Kapoor is also a recipient of the prestigious Living Legend Award by the Federation of Indian Chamber of Commerce and Industry (FICCI) in recognition of his outstanding contribution to the Indian entertainment industry.